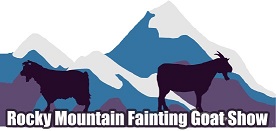 Futurity and Regionals Online Entry Form
Logan, Utah - June 15 & 16, 2017

This on-line form should be used to enter your Fainting Goats in the Rocky Mountain Fainting Goat Shows.
Deadline for online entries is June 4, 2017.

You must be at least 18 years of age to use this entry form.
Futurity Show is open only to Futurity eligible bucklings and doelings (see Fainting Goat Guild Futurity for eligibility requirements). Only bucklings and doelings from nominated does may be entered.
Regional Championship show is only open to previous Grand Champion winners (see Fainting Goat Guild Regional Championships for eligibility requirements).
By completing this form, you are stating that you have read the Show Information section of the FGG Open Show home page and agree to comply with the show criteria.
Please visit the main RMFGS website for information on the MGR Show - RMFGS website.
Do not use this form to enter the FGG Open Registry Show. Click here to enter the FGG Show entry form.