Oregon Virtual Show
a fundraising event for the Oregon Fainting Goat Show



Entries Accepted: Apr 16 - Jun 20, 2016 ~ In progress!
Judging: Jun 24 - 25, 2016
Results Announced: Jun 26 - 27, 2016

Visit the 2016 Show and Virtual Show Calendars
Check them out and start planning your 2016 show season today!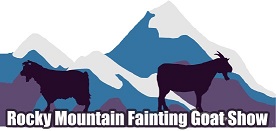 Congratulations to everyone who attended the RMFGS!
Futurity Results are posted (click here)

FGG Show results are posted (click here)





Congratulations to the latest FGG Supreme Champions!
2015 Supreme Champion Doe

CMR Jazzberry
Owned by Ahart Acres
Bred by CMR
2015 Supreme Champion Buck

FOF Smoke N Mirrors
Owned & Bred by
Fall Over Farms
2015 Supreme Champion Wether

Triple-T Bubba
Owned by Courtney Teichert
Bred by Triple-T Ranch
To learn how your goat can become a Supreme Champion, visit the FGG Show page.


2016 Kidding Season is Here!
Don't forget to nominate your does for the Futurity before they kid!
Fall kids born from nominated does after the show season will be eligible to compete in 2016!
To learn more about the Futurity Program, visit the Futurity Home Page today!


If you would like to host a FGG Live Show in 2016, contact us today! We'll be happy to help!