2015 FGG Virtual Show is currently taking entries!
This fundraiser supports the FGG and the awards for the Youth Program.

Judge: Sue Johnson (Rosamond, CA)
Entries Accepted: June 1 - July 26, 2015 - In Progress
Judging: July 29 - 30, 2015
Results Announced: July 31- Aug 2, 2015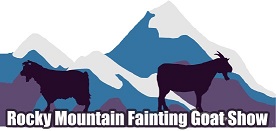 Rocky Mountain Fainting Goat Show was awesome!
Click Here to see the Results!

Oregon Fainting Goat Show was a great success!
Click Here to Learn More!

2015 Kidding Season is Here!
Don't forget to nominate your does for the Futurity before they kid!
To learn more about the Futurity Program, visit the Futurity Home Page today!

If you would like to host a FGG Live Show in 2015, contact us today! We'll be happy to help!


Congratulations to the latest FGG Supreme Champions!
2014 Supreme Champion Buck

Fall Over Farms Don't Know
Owned & Bred by
Fall Over Farms
2014 Supreme Champion Doe

Faint-Hearted Ranch Winter Grace
Owned Triple-T Ranch
Bred by Faint-Hearted Ranch
2014 Supreme Champion Wether

Triple-T Kris
Owned by Rocking R Ranch
Bred by Triple-T Ranch
2014 Supreme Champion Doe

Fall Over Farms Madison
Owned by Rocking R Ranch
Bred by Fall Over Farms
To learn how your goat can become a Supreme Champion, visit the FGG Show page.