2015 Valley of the Sun Virtual Show - Results are posted!

Click Here to Go to the Virtual Show Website!

Valley of the Sun Fainting Goat Show in Ramona, CA
October 16 & 17, 2015
Entries are due by October 1, 2015
Click on Links to Access Entry Forms ~ MGR Show ~ FGG Shows
Click Here to View Main Show Page


North-West Classic Show was a great success!
Click Here to View the Results!

2015 Fall Kidding Season is Coming!
Don't forget to nominate your does for the Futurity before they kid!
Fall kids born from nominated does after the show season will be eligible to compete in 2016!
To learn more about the Futurity Program, visit the Futurity Home Page today!

If you would like to host a FGG Live Show in 2016, contact us today! We'll be happy to help!


Congratulations to the latest FGG Supreme Champions!
2015 Supreme Champion Doe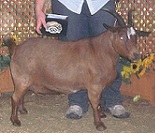 CMR Jazzberry
Owned by Ahart Acres
Bred by CMR
To learn how your goat can become a Supreme Champion, visit the FGG Show page.