Congratulations to Courtney Teichert,
the 2013 High Point Youth Showman Award winner!


Courtney & Bubba
Click here to view all of our youth winners!

Congratulations to the first FGG Supreme Champion!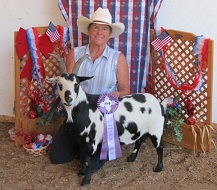 Fall Over Farms Spatter
Owned & Bred by Fall Over Farms (Topaz, CA)
To learn how your goat can become a Supreme Champion, visit the FGG Show page.

2013 Western Regional Champions have been crowned!

2013 FGG Overall High Point Winners have been posted!

Don't forget to nominate your does for the Futurity before they kid!
To learn more about the Futurity Program, visit the Futurity Home Page today!

If you would like to host a FGG Live Show in 2013, contact us today! We'll be happy to help!