2014 Virtual Show Sponsors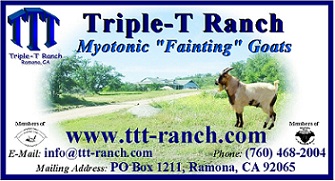 Show Information
Show Administration Information
For Individual Show Information, Entry Eligibility, and How to Enter, please visit the specific show website by clicking on the links in the Virtual Myotonic Goat Show Calendar above.
Awards
End of year High Point winners will win money awards based on the amount of money in the Virtual Show Awards Pool.
Each Virtual Show Host donates $20 into the Awards Pool.
All monies from advertising sponsors will be added to the Awards Pool.
The Awards Pool will be divided 3 ways and will be distributed to the High Point Buck, High Point Doe, and High Point Wether.
In the event of a tie, the winner will be the buck/doe/wether that out competed the most number of goats of the same gender.
For 2012, the minimum end of year High Point award will be $20 each for the High Point Buck, Doe, and Wether. More $$ will be added as advertising sponsors are obtained.
Points
High Point winners:
There will be three (3) High Point winners each year (1 buck, 1 doe, and 1 wether).
Points are earned by each 1st through 3rd place winner in each class.  The number of points earned per placing will depend on the number of goats entered in the class.  This is because the larger the class, the more competition the winner had to out compete for the win. See Table 1 for the 1st through 3rd place point system.
The number of points earned by Champions and Reserve Champions will depend on the number of age groups represented in the Championship class.  See Table 2 for the Championship point system. Note: combining classes will not change the number of age groups considered to be represented in the Championship classes.
The points will accumulate over the year (January 1st to December 31st).
The High Point winners will be based on the points earned throughout the year.
Winners will be announced as soon as possible after the last virtual show of the year, but no later than December 31 of that year.
If a buckling is castrated during the virtual show year, the points earned as a buckling and then as a wether will be combined for an end of year total.
The FGG will record and track the points earned.
2014 Virtual Show Sponsors