Results of the July 10, 2011, FGG Youth Poster Contest in Scio, Oregon - Judge: Nancy Kreider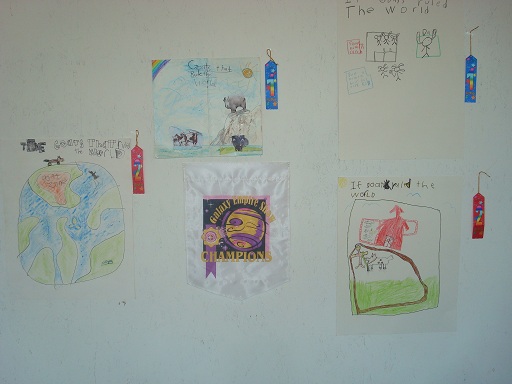 Due to 2 different themes being created by the youths (If Goats Ruled the World and Goats That Rule the World), the Judge split the contest into the 2 different groups.
IF GOATS RULED THE WORLD

1st Place - Toby Robinson
Poster reads "Fainting Human Ranch"
"Buy a human now for only $50"

2nd Place - Cody Robinson

GOATS THAT RULE THE WORLD
| | |
| --- | --- |
| 1st Place - Courtney Teichert | 2nd Place - Cody Teichert |

Participating Shows
FGG Open Fainting Goat Show - hosted by Ahart Acres and CMR - New Plymouth, Idaho
June 2014
Western Regional Championships - Valley of the Sun Fainting Goat Show - Ramona, California
October 2014

How to Enter
The theme of this year's contest is "Me and My Goat!" What are your favorite things to do with your goat?
Entries will be divided into three age groups: 
Group 1 = 8 years old and younger

Group 2 = 9 to 13 years of age

Group 3 = 14 years old and older

The deadline for entries is set by the participating district shows. Deadlines will be posted on this site when they become available.
Posters are to be brought to the shows for exhibition. If you are not near a show, but still want to participate, you can mail us your entry and we will deliver it for you.

Contest Rules
One entry per person.
Posters may be vertical or horizontal in orientation.
Entries must be on 15-by-20 or 14-by-22-inch poster paper. For mail-in entries only, use easel paper (comes in 18" width), roll it up when finished and mail it to Sue Johnson, 8301 Stagecoach Lane, Mojave, CA 93501.
Participants may sketch the design lightly with pencil, but the end result must be a color poster.
All media may be used except copyrighted material.
Do not fold the poster. Mail-in entries may be rolled for folding, but not folded.
Youth contact information must be pasted on back of the poster.
All entries become the property of the FGG, which reserves the right to display or otherwise use the submission and modify any poster for future reproduction.

Judging
The poster will be judged for the idea represented in the poster more than artistic ability.
Each district show committee will assign someone at the show to judge the posters.
After district judging, first-place winning entries will go on to compete at the Regional Championships. Western Regionals will be at the Valley of the Sun Fainting Goat Show in Ramona, California.