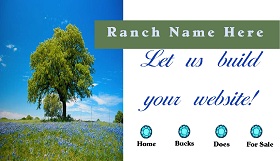 Don't have time to create and maintain a website? Don't want to pay hundreds of $$ per year?
We can design your website and maintain it for you!
Get a 4 page website with unlimited updates
for just $125 set up and 1st year maintenance fee
($75/year maintenance fee thereafter).
Plus a free Contact Us page (total of 5 pages)!
Additional pages are available - price will depend on maintenance required.


Click on the icons below to visit websites we've created besides the Fainting Goat Guild site!